A winter hike is a different experience from the hustle and bustle of the summer months. There's the beauty of the ever-changing landscape, a rare sense of seclusion, and a brand new perspective to be found on your favourite trail.
But what gear should you bring, and what should you leave at home? We cover the essentials and a few other accessories to help keep you going.
---
The essentials
Wicking baselayers
Your base layer is the layer closest to your skin. It should work to remove sweat away from your body so moisture doesn't accumulate and cool you down once you've stopped. Look for baselayers made from merino wool or a merino blend to help regulate your body temperature or go for a fully synthetic option if that's your preference.
A breathable midlayer
Fleece is a popular midlayer because it features two things all hikers love: it's lightweight and breathable. It comes in a range of styles and weights, so factor in the things that influence your layering system to get the right one: the weather conditions for your hike, how hard your hike is, and how much you feel the cold.
A windproof and waterproof jacket
A reliable outer layer is an important investment. Getting wet will put you at risk of injury, hypothermia and will generally make you miserable. Look for a rain jacket made from fabric like GORE-TEX that will protect you against rain and snow in the harshest winter conditions.
Waterproof boots
Bit of a no-brainer, but wet feet = cold feet. Moisture will make you cold, uncomfortable and is a leading cause of blisters. For a little extra protection (or to maintain your current pair), spray your hiking shoes with some Granger's Footwear Repel or use the Leather Conditioner.
Merino socks
Once you've locked the moisture out, it's still important to address the moisture accumulating within your socks. A proper hiking sock made of merino wool will draw sweat away from your feet to help keep you cool, comfortable and blister-free. Whatever the material, it's always good to have a spare pair of socks in case your feet get wet after all.
An emergency blanket in your first aid kit
An emergency blanket should be an essential part of your hiking first aid kit anyway, but it's especially important in the cold. The weather forecast isn't a guarantee, and in the unlikely event something goes wrong, you've got a little extra back-up while you're out in the elements.
A reusable water bottle
Keep your waste at a minimum with a reusable water bottle or bladder. If you're stopping for a break (and don't mind the extra weight), consider an insulated water bottle for hot tea/coffee to keep warm.
The nice-to-haves
Softshell pants
In mild winter conditions, leggings or long-johns might be just the thing. But for a more reliable, durable pant, snap up some winter-weight softshell pants. They're surprisingly light and feature a full range of movement without overheating your body while providing extra protection against the weather.
A lightweight down jacket
Down is very light, compressible and warm, so it's easy to include in your hiking pack. If you're planning on taking a few photographs on a blustery summit (or even stopping for lunch) a down jacket will be a very welcome extra layer.
Gaiters
If you don't want to wear water proof pants, a long pair of gaiters are great for a cold, wet day on the trail. They'll stop moisture and debris from entering your boots from the top.
A small dry-bag
If you're expecting a shower (or in unpredictable conditions), keep your phone/camera/other valuables safe in a reusable, water-resistant dry bag. It's better safe than sorry!
Hand warmers
And finally, for a little luxury on the trail, slip a few instant hand warmers into your pockets.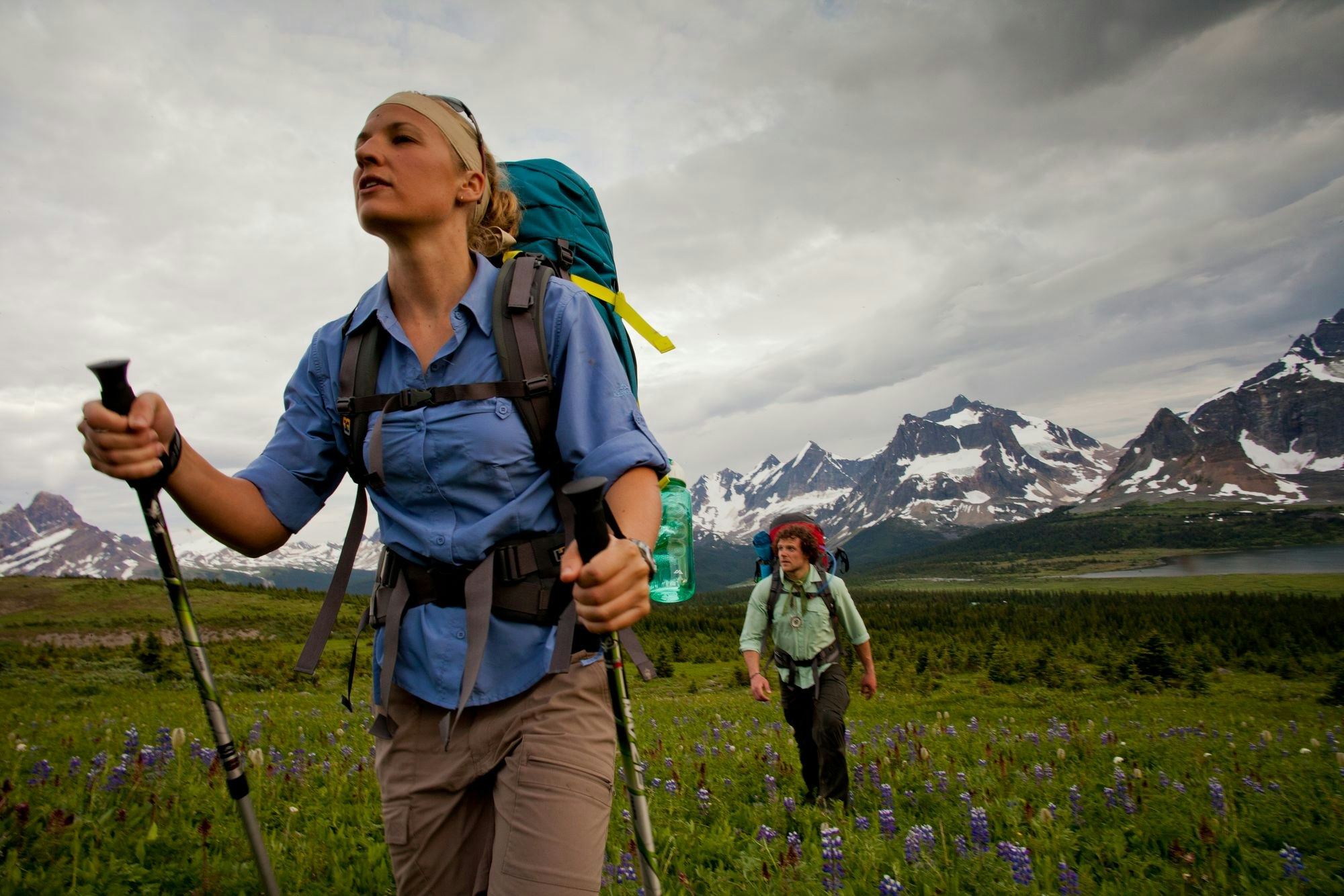 On a winter hike it's essential to stay safe and warm. Always check the weather conditions before you leave and reassess your layers, gear and preparation accordingly. Let somebody know where you're heading and when you plan to be back.
---