You've just booked a winter getaway. Your main piece of luggage? Your trusty backpack. Product Expert Daan Dijkstra shares his top tips for packing warm and light.
---
It doesn't matter if you're a backpacker, travelling for work, or even packing for two different seasons – packing warm and light can be a challenge.
But when it comes to packing a bag, Daan knows. His 25 years in the outdoor industry means he's been asked 'how to pack' countless times for every weather condition and activity.
So how do you pack a bag that won't break the zips, backs and spirits of even the most well-intentioned travellers?
In this article, Daan shares his must-do packing tips.
Select smart travel gear
Choose clothing that will give you excellent 'warmth for weight'. These are clothes made out of lightweight fabric that give you outstanding warmth and insulation for their weight.
Look for materials like down, fleece and merino. This will help keep your backpack nice and light without skimping on the essentials.
Adaptability
Keep your eyes peeled for adaptable travel clothes. Items that are reversible or can be worn in more than one way make packing so much easier. Even though you'll pack less, you'll still take more.
A jacket that turns into a travel pillow or a warm t-shirt that can easily be worn inside-out are a few examples.
Layering
Whatever your trip and whatever your preferences, there's one tip to rule them all – layering.
Wind, rain and cold are three things that Mother Nature will throw at you on a winter trip, so be sure you've got those covered.
Don't forget your feet, hands and head! For a week or two of casual sightseeing, you can probably get away with:
three baselayers
two mid layers
one trusty outer layer.
Take into account whether you can wash and if you're using merino.
For winter, it's important to make sure your outer layer has some wind resistance and is preferably waterproof.
See the bigger picture
Once you've chosen some hard-working travel garments that tick the layering box, it's time to check yourself.
Lay out everything you want to bring and put like items together. You'll soon see glaring excesses. Four shirts? Maybe you can get away with three.
If you pack by loading everything straight into your bag, you miss this opportunity to assess what you're taking – and it's easy to let unnecessary stuff slip in.
If you're backpacking, or keeping most of your kit on your back during an adventure, it's even more important to keep things light.
If you can't go without something, see if you can replace it with a lighter version or model. This may mean you need to upgrade to a down sleeping bag, or opt for a smaller sleeping mat.
Strike the right balance
If you're notorious for packing half your wardrobe, it's time to challenge your mindset. Aim to phase out those 'just in case' items.
Assess your particular trip and situation and find the right balance. For instance, you probably don't need five pairs of pants to cover every possible occasion. But you might need a first aid kit if you're travelling with the kids or hitting the slopes.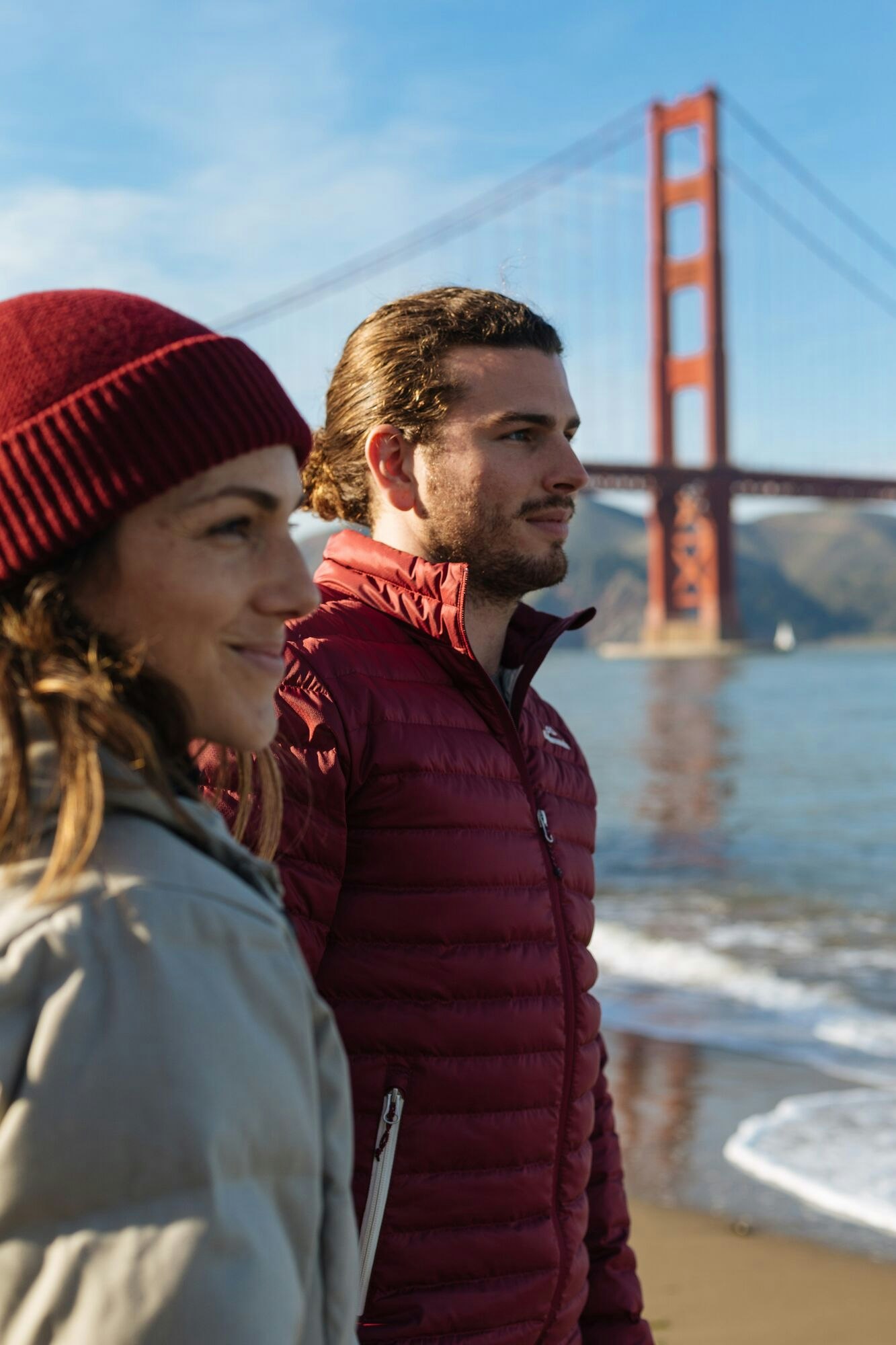 Daan's gear recommendations
Merino Layers
Merino wool is the perfect breathable, all-season fabric. You won't sweat in the heat, but you'll retain warmth when the temperature drops.
Merino long sleeve shirts and t-shirts are longtime favourites in our travel bag because they've got great warmth for their weight, and because they're odour resistant – they don't need much washing.
Down Jacket
Like merino, down offers fantastic warmth to weight. It's important to be aware of how fill power can affect weight, so find out how to choose the right down jacket for your travels.
Down is great if you need to pack your jacket in your bag because it has excellent compressibility.
Our Benmore men's and women's jackets are awesome travel buddies as they're adaptable, contain down and work as multi-layer items. Skin one down to just the down vest or go full winter warmth with a waterproof outer and a long sleeve bomber down jacket zipped in.
For an adaptable synthetic jacket, the Lawrence men's and women's jackets were made for travel. It offers similar warmth-to-weight to down and zips into its own hood to form a travel pillow. Pack it up and bring it on the plane with you.
Packing Cells
If you're aiming to pack small for winter, packing cells are a given. They help you to stay organised and can help compress bulky items while allowing you to maximise available space.
They're also helpful for separating smelly or wet stuff when you're in the thick of your adventures. Our pick is the ultra-lightweight packing cell – the lightest ones we have.
---