Where is the best hiking in Sydney?
Kathmandu ambassadors Alesha and Jarryd are professional photographers, writers and founders of adventure travel blog NOMADasaurus. They've been exploring the world together since 2008, searching for culture and adventure in off-the-beaten-path destinations.
---
Sydney is one of the world's most beautiful cities, with the iconic harbour and dazzling beaches attracting approximately 8.5 million international visitors alone in 2018. But amidst the bustle of incredible cultural festivals, gruelling sporting events and some of the world's most famous architectural jewels, there is plenty of hiking in Sydney to satisfy adventurers. It can be easy to take a picture of Sydney's harbour, but to spend a day or more hiking around its many coves and bays will give you a rich appreciation for this city. Here are just 7 hiking spots in Sydney that will get your heart and legs pumping.
1) The Coast Track in Royal National Park
Features: epic coastlines, coastal heath, beach tracks, swimming holes, ancient and endangered rainforests
Rating: Moderate (Grade 4)
Length/Time: 39km (2 days)
When to go: Any time of year, shoulder seasons are ideal and the peak of summer runs the risk of encountering fires (winter is best for less crowds)
Child-friendly: Yes.
More information: See National Parks for more information about track closures etc.
The best way to experience the Royal National Park, the third oldest national park in the entire world, is to tackle the stunning 30km-long Coast Track.
Truly one of the most beautiful hikes in Sydney, sitting right at the southern border of Sydney, you start in the little town of Bundeena in the north of the park and trek 18km on the first day to the gorgeous campground at North Era. The views along the way are outstanding, as you follow the edge of high cliffs with the Pacific Ocean licking at the rock far below. You'll come across a number of pristine, isolated beaches as well, which are perfect for taking a dip to cool off. The ease-of-access for the Coast Track (accessible by car or public transport!) means this hike often gets overlooked by those seeking multiday hikes in Sydney, as people often look a little further out towards the Blue Mountains. But this is Australia's first National Park, one of its most beautiful, and definitely the most accessible.
While you will often have the track to yourself, there are various insta-famous spots that you may find crowded, such as Wedding Cake Rock, Eagle Rock and Figure Eight Pools. Time your hike in the off-season to enjoy these locations with fewer people. Make sure you read up a bit on what you will encounter in the national park, such as the rare Littoral rainforests that occur along this part of the NSW coast. A critically endangered forest, there is a great variety of plant species in these rainforests, which account for less than one percent of the total area of rainforest in NSW.
After a night spent camping beneath the stars at North Era it's only a three-hour, 8km hike to the end point at Otford. It's ideal to do this trek with friends so you can leave a car at either end of the trail, as there aren't any public transport options in this part of the state.
Our recommendation is to do the hike in the winter, where there are far less people along the trail and you'll have the opportunity to see humpback whales just off the shore on their migratory journey north.
Note: bring purification tablets or carry all the water you will need.
2) Spit Bridge to Manly Walk
Features: tidal pools, beaches, whale watching, water access
Rating: Easy
Length/Time: 10km (4 hours)
When to go: Any time of year, but it can get busy so a warm weekend in winter is best
Child-friendly: Yes.
More information: See National Parks for more information about track closures etc.
You don't need to travel far to find some amazing hikes in Sydney. The Spit Bridge to Manly walk is only a short bus or ferry ride away from the CBD, and really shows why Sydney is considered to be one of the most beautiful cities in the world.
This 10km trail follows the northern edge of Sydney Harbour and passes through Australian native forests, along crystal clear coves and even has some fascinating Aboriginal rock paintings to admire.
While you can do this track in any direction, we recommend finishing in Manly so you can enjoy a well-earned meal and drink at the end of the hike. A perfect walk for the entire family.
This is definitely the kind of Sydney hike that aims to impress, so if you have visitors, this is ideal. However, if you want peace and isolation, then you may need to look elsewhere or at least take on this hike during the week and in the colder months. No matter the weather, this is a hike that everyone should do at least once.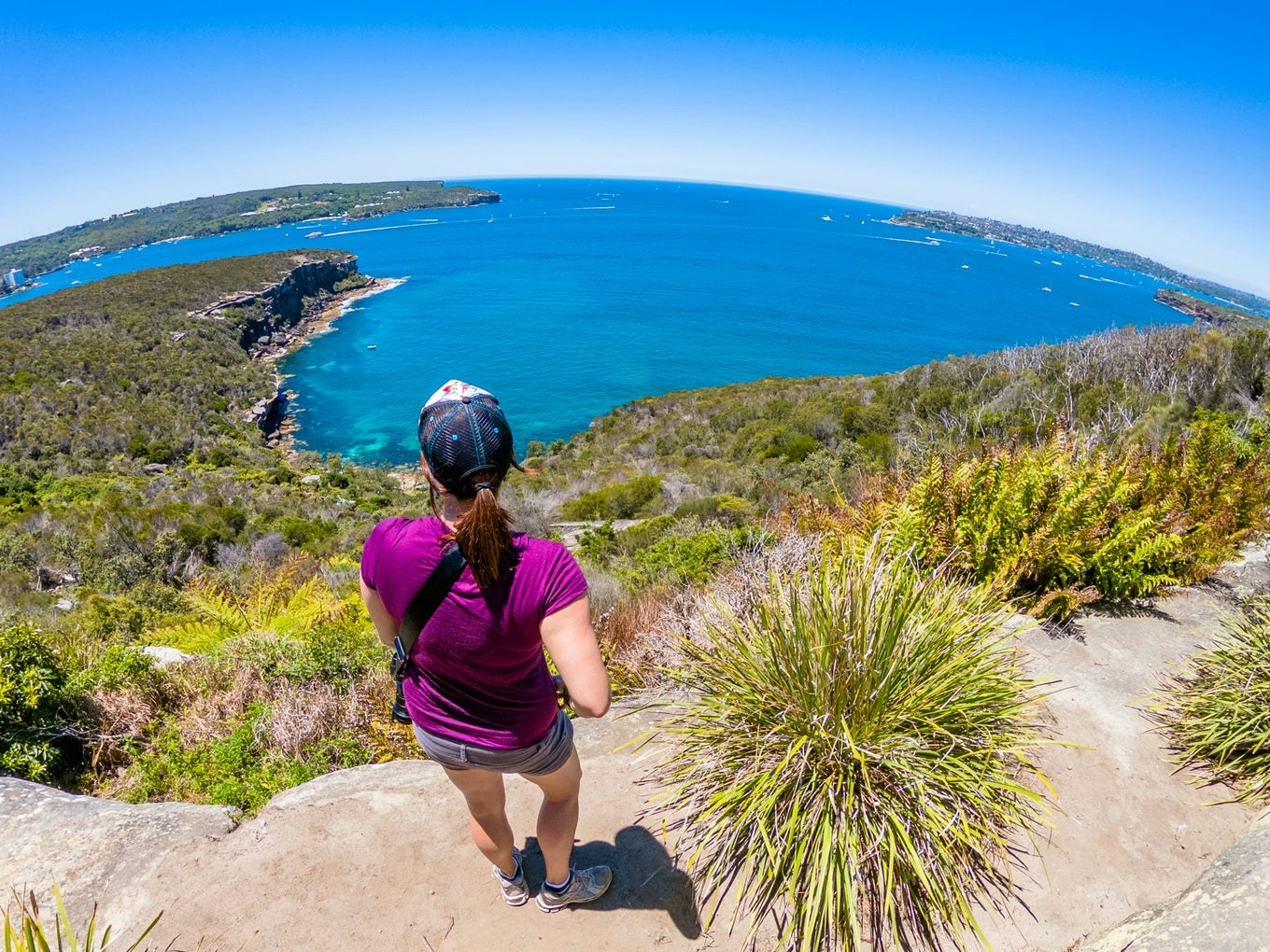 3) The Six Foot Track
Features: swimming holes, cable bridge, diverse bushland, steep inclines (start from Jenolan to enjoy slightly more time walking downhill)
Rating: Hard
Length/Time: 46km one way (3 days)
When to go: Any time of year but risk of fire during summer
Child-friendly: Older children (this is a 3-day hike)
More information: See National Parks for more information about track closures etc.
The Blue Mountains is home to a number of spectacular hikes, from short jaunts along perfectly-paved trails to epic multi-day missions. If you're up for the latter, make sure you check out the Six Foot Track (note, hikes in the Katoomba area were closed during the 2019/20 bushfire season due to fire damage. Always consult the National Parks website to see what closures have occurred on a track).
Running for 44km from Katoomba to the Jenolan Caves, this historic horse track cuts through the Bennelong Valley and puts you in the heart of some of New South Wales' most glorious native bushland. It's a very challenging and remote 3-day hike near Sydney, so make sure you have experience with being in the wilderness and bring all of your camping supplies with you.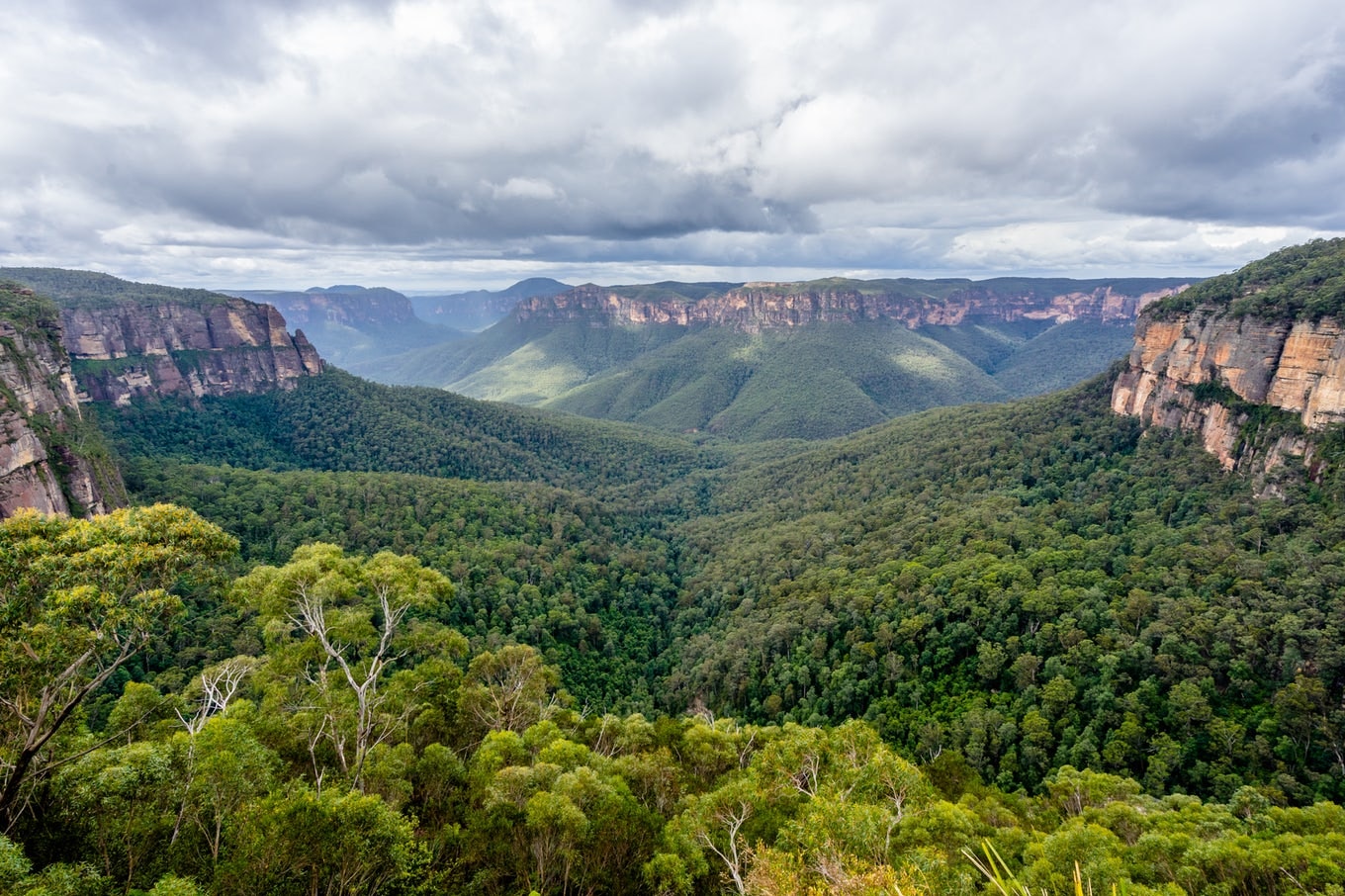 4) Gloucester Tops Circuit Walk
Features: snow gums, water falls, sub-alpine woodland, Antarctic Beech - is part of the ancient (i.e. millions of years old) Gondwana Rainforests of Australia
Rating: Moderate (Grade 4)
Length/Time: 8km loop (3-4 hours)
When to go: Any time of year
Child-friendly: Yes
More information: See National Parks for more information about track closures etc.
Almost exactly 3 hours north of Sydney is the expansive Barrington Tops National Park, home to ancient Gondwana rainforests, picturesque waterfalls and excellent opportunities for spotting Australian birds.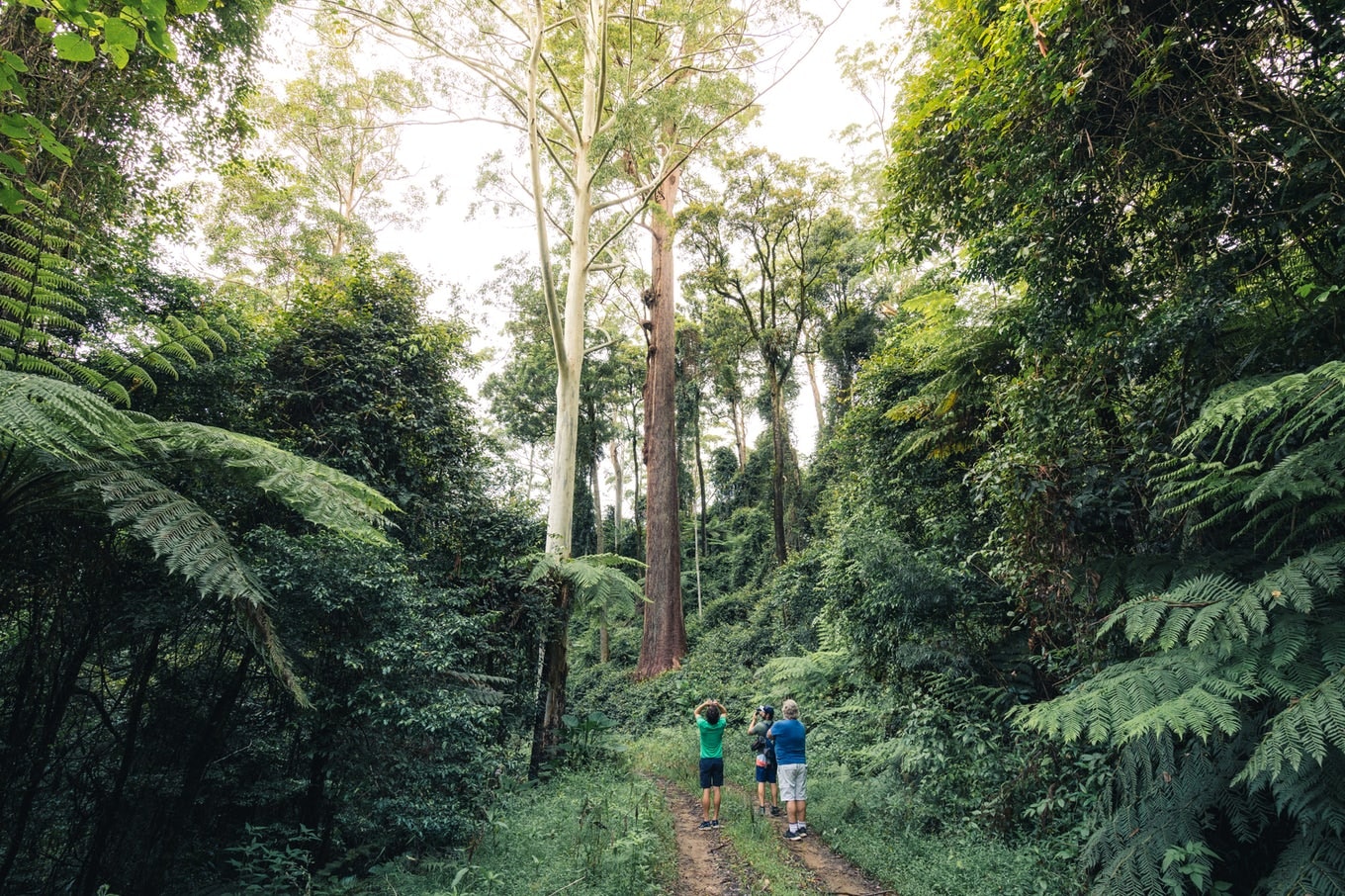 One of the best hiking trails in the park is the Gloucester Tops Circuit Walk, an 8km loop that takes you through forests that can be traced back millions of years. There's a good chance you'll spot plenty of wallabies and kangaroos along the way as you step through forests of snowgums, subalpine woodlands and finally into towering Antarctic Beech trees.
Keep an eye on the weather on this track, as parts of it can be closed after heavy rain. There is a long steady incline which will test your legs, while the waterfall is a perfect place to cool off in the hotter months. During winter, however, you may even experience some snow fall, which while magical can get cold very quickly, so pack accordingly.
5) Jerusalem Bay Hike (Great North Walk, Ku-ring-gay Chase National Park)
Features: tranquil foreshores, ridge-top lookouts, scribbly gums, rocky declines, timber boardwalks, Brooklyn Dam Campsite (for overnighters)
Rating: Moderate (Grade 4)
Length/Time: 11km one way (4-5 hours)
When to go: Any time of year (boggy in winter or after rain)
Child-friendly: Yes
More information: See National Parks for more information about track closures etc.
One of Sydney's most legendary hiking trails is the 250km Great North Walk that runs from Sydney all the way up to Newcastle's Hunter Valley. But if you're only looking for one section to try, check out the 11km Jerusalem Bay hike, also known as the Cowan to Brooklyn Bush Walk.
Located in Ku-ring-gai National Park only an hour from Sydney, this difficult one-way track starts from the Cowan train station and leads you through native bushland and around the edges of the stunning Jerusalem Bay. It finishes in Brooklyn at the Hawesbury River train station, making this a perfect trek for experienced bushwalkers who would prefer to use public transport.
The beginning and end of this trail are quite steep, so make sure you wear proper footwear.
6.) Sydney Harbour...any direction
Features: everything that is famous about Sydney: incredible views of the city and harbour, tranquil foreshores, secret spots to set up for lunch and do some boat-watching
Rating: Easy to moderate (plenty of hills to be found)
Length/Time: up to 45km of loops to explore west of the Sydney Harbour Bridge
When to go: Any time of year
Child-friendly: Yes
It may seem strange to consider, but one of the best hikes in Sydney for feeling a sense of escape from the city is to be right in the heart of it. You can explore all the many coves and foreshores that pepper Sydney Harbour, starting at Kirribilli and heading west. There are various moments where you will find yourself scaling steep hills through some of Sydney's most sought-after suburbs. Take these opportunities get a coffee or lunch before heading back down to various parks and harbour-side tracks. The best thing you can do is turn your phone off, forget about any maps and just let your nose lead you. There is nothing better than having no idea where you are before a tiny harbour-side park with a lone dog walker pops up in front of you and reminds you of just how magical this city really is.
7.) Pierces Pass to Bluegum Forest Walking Track
Features: stringybark trees, river crossing, rainforests, rock wallaby sightings come sundown.
Rating: hard.
Length/Time: 16km, 6.5-8 hours.
When to go: the trail is accessible all year round, but do note it does snow in the Blue Mountains during winter, which can make it inadvisable to hike the trail.
Child-friendly: the trail is very steep in parts, so it should only be attempted with children of reasonable fitness.
More information: Visit the NSW National Parks and Wildlife Services website.
This is a lesser-known so quieter hike near Sydney, and a challenging one at that. Lose yourself (not literally) in the heady rainforest of coachwood and sassafras, with sienna cliffs towering above you in the distance.
The Acacia Flat campground is a first-come-first-served treat, giving you the opportunity to truly experience the wonder of the Blue Mountains, which come into their own at night. While there is a bit of a debate as to technology's role in our relationship with nature, there is an incredible 360-degree virtual tour of the track that you can explore via the Google Trekker here.
Be careful of fire danger in the hotter months (learn about being fire-smart when hiking), and make sure to check the National Parks website for closures and warnings.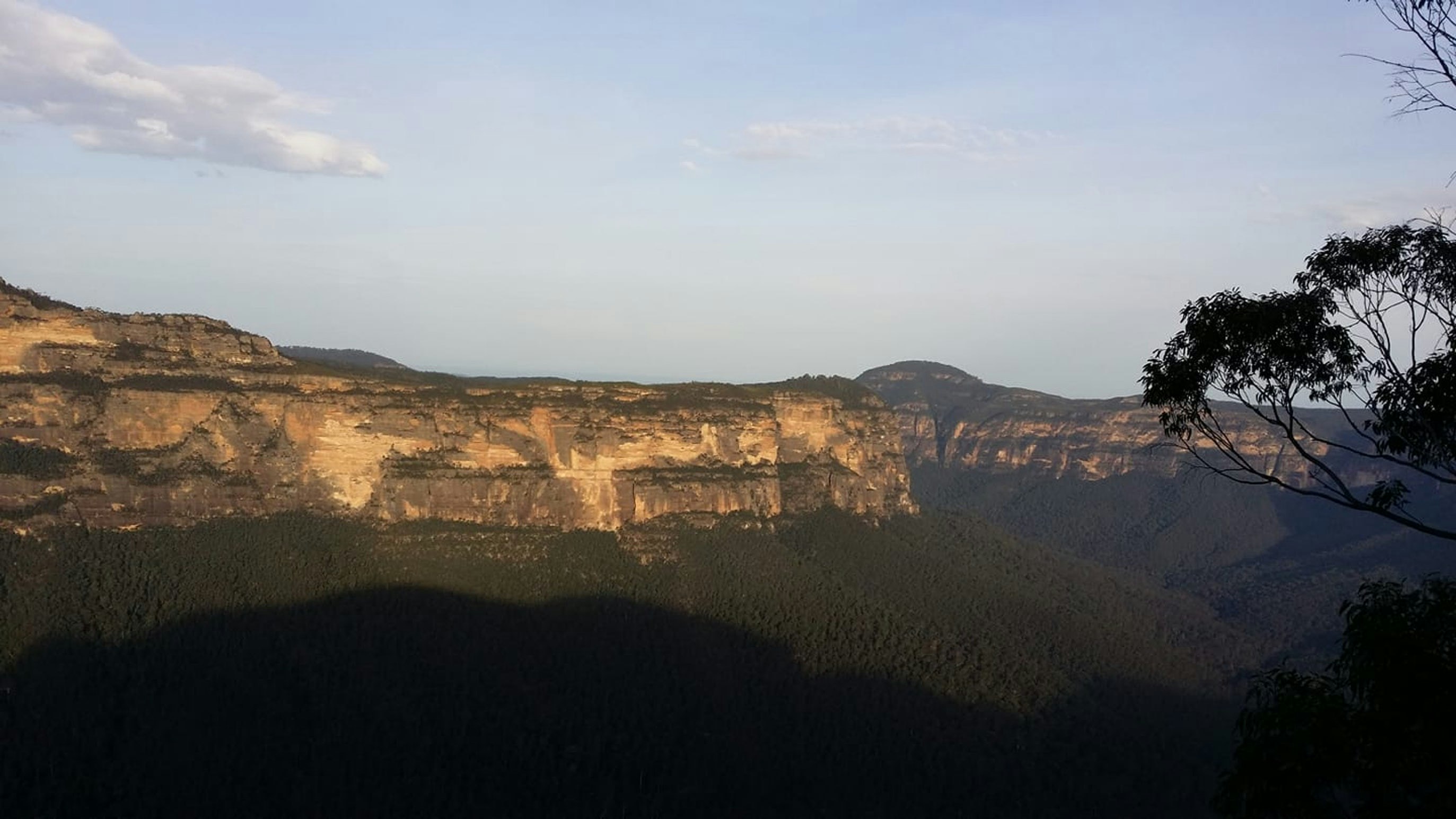 Image: Kathmandu team member Nancy Artieres
Find the right gear for your next hike...