Explore these 7 trail running spots near Auckland
There are all sorts of reasons why people get into trail running, but a common one comes from the fact that we seem to get busier and busier as we get older, with less time to ourselves. The opportunity to spend a few days exploring a hiking trail can seem harder to take on, which is where trail running comes into its own. Running is a great way to explore new trails within only a few hours or less of running while giving your knees and hip joints relief from the impact that comes from running on concrete. But more than anything, whether you are at home or on holiday in a new city, running gives you the freedom to explore.
Auckland offers its own flavour of running that sets it apart from other areas of New Zealand. This area of the North Island contains rich volcanic soils, charcoal black lava fields that make it look like the earth has been tilled by a giant, verdant green farmland that seems to roll on forever, waterfalls as tall as buildings and, of course, rainforests that are rich with a heady mix of life and that propel you back in time. So what are you waiting for? Lace-up for some of these epic trail runs near Auckland.
1. Rangitoto Island Summit Track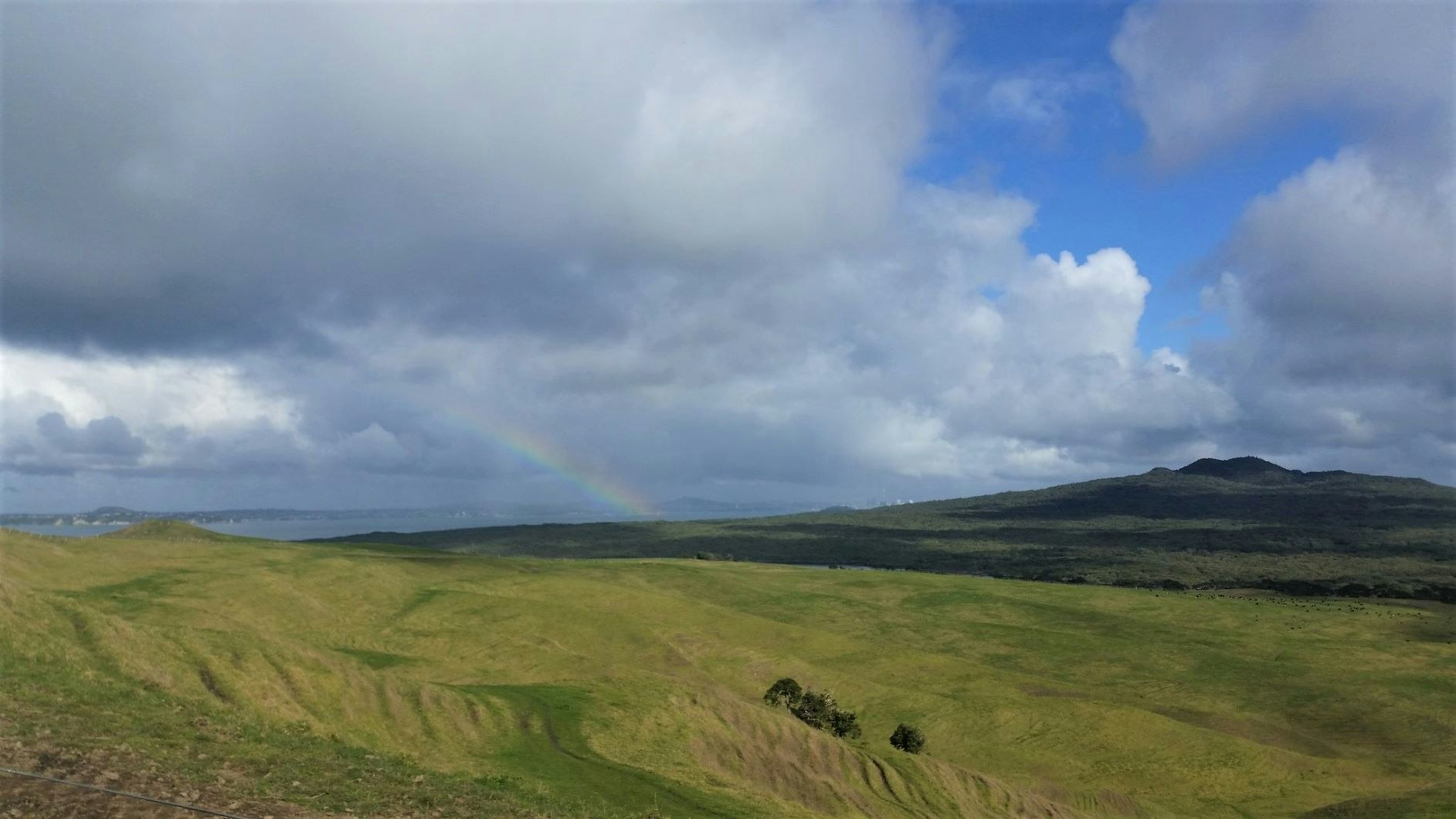 Distance: 7km
Difficulty: Easy terrain but involves a moderate climb
The highest point in the Auckland area, the 260-metre high volcano summit on Rangitoto is a favourite destination for hikers but also an accessible run from Auckland and a relatively easy run for those building up their fitness.
Where New Zealand's South Island has the majesty of the Southern Alps to inspire awe and burn calves, running trails near Auckland often showcase the rugged nature of this part of New Zealand's windy coastlines, rolling farmland or the lush greenery of inland forests. The Rangitoto Track highlights another major drawcard of the north, and that is the jet-black volcanic landscapes that are simultaneously eery but rich with life. There are few opportunities anywhere in the world to run through a lava field, but Rangitoto Island offers such a chance and within stone's throw of Auckland.
There is a ferry service that you can take in the morning and get a run in before taking a midday/afternoon ferry home, or take a kayak yourself so that you can spend more time exploring. The gradual incline and relatively easy terrain make this a great run for those looking to build up their fitness and joint strength before hitting harder running trails in or around Auckland.
2. Tapapakanga Regional Park Walk
Distance: 6km
Difficulty: Easy terrain (farmland and some short stretch of beach)
Just over an hour southeast from Auckland is this trail run that offers another opportunity to get out of the city and practice your running techniques.
Tapapakanga Regional Park looks over the Firth of Thames bay, or Tikapa, and on a clear and still day is an ideal running spot. Being an hour out of Auckland, it is an easy drive, but consider camping at the beachside campsite and using it as a jumping board for exploring other running trails in the Hunua Ranges. While a favourite family camping spot, you can often find it relatively quiet, while the trails to explore are themselves not too much of a challenge (it's more about the scenery here).
Be careful of high tide, because you will get your feet wet with a creek crossing, but with over 14km of tracks to explore, you'll have plenty of opportunities to dry your shoes off.
Distance: 8km
Difficulty: Moderate. Beach sections and tight, sandy cliff sections mean you'll have to concentrate and expect to feel the burn in your thighs.
A really close run near Auckland, the Te Henga Walkway lies 30 minutes due west of the city, and is one of the best examples of this incredible surf coast's rugged nature that is like nowhere else in the country.
Run with a friend as this is not a loop track and is best done with two cars parked on either end. With some running through farmland, the majority of the trail will have you facing what seems like an endless coastline with dark sandy stretches of beach that look as slick as the back of a whale. Be careful along the clifftop stretches, and try to choose as still a day as possible, otherwise you will have those offshore winds pushing you around like the riptides below.
Distance: 3.5km
Difficulty: an easy climb, but one of Auckland's most famous runs.
While there are concrete paths for you to follow in Cornwall Park, look out for gravel/dirt tracks that wind their way up to Maungakiekie (One Tree HIll), the 182-metre high volcanic peak that marks the highest point of a dormant volcano overlooking Auckland.
While the terrain is friendly for beginners to running, the opportunity for some steep hill sprints gives more experienced runners the opportunity to take their running to the next level. There is a network of trails in the park that you can explore. Map out your own favourite so that you know exactly where you are going or just explore the park in its entirety before heading up towards the monument for a final summit.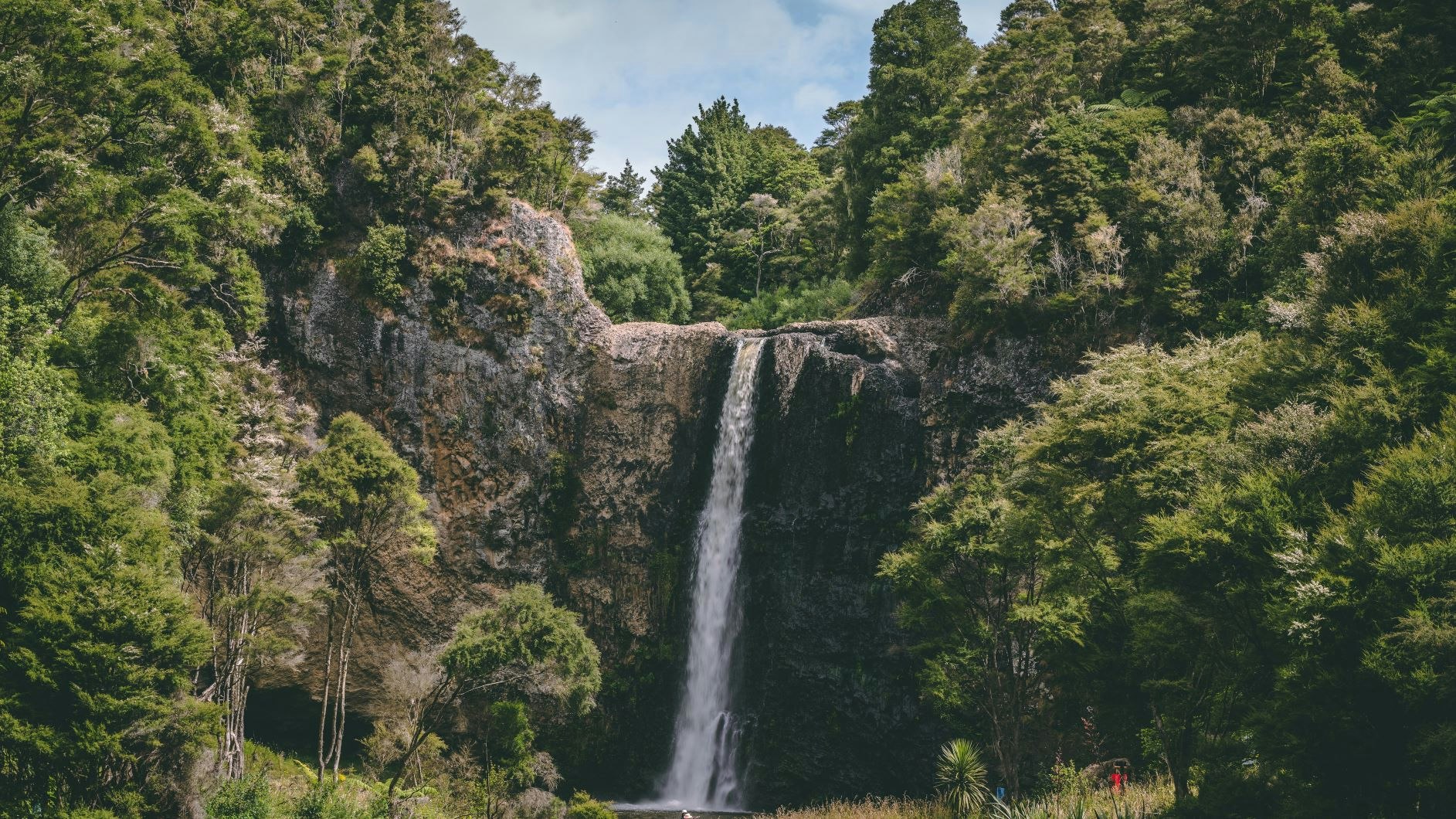 Distance: 9km
Difficulty: moderate, but the track can get very muddy during winter (but the views of Cosseys Dam and over at abutting farmland make it well worth it).
Hunua Ranges Regional Park offers some of the best forest running near Auckland, with serene views of the countryside beyond as well as waterfalls and Cosseys Dam giving you plenty of places to stop for a break.
The Massey Cosseys Track usually takes about 3 hours to walk so this is a great short run that is only an hour away from Auckland and that will challenge your running technique with a number of steep inclines. Again, the warmer months are best for this trail as it can get very muddy after a downpour, but then again if you don't head out in the rain you will miss the forest coming to life.
If you want more of a challenge, the 17.2km Ernies and Lilburn Tracks start at the end of Moumoukai Road and will push you to new limits. Follow the Ernies track clockwise to follow the relatively flat coastline of the Upper Mangatawhiri Reservoir for the first 4-5km until you get to the northern end of the reservoir where you will be faced with a steep climb up to 400m. This won't be your last climb but it will definitely get the blood pumping.
6. Waitakere Ranges Regional Park
Distance: Various
Difficulty: Easy to difficult (there are plenty of steep climbs if you want to take them on)
To the west of Auckland lies the Waitakere Ranges Regional Park, with plenty of short or longer trails that offer either epic coastline runs or sojourns through thick green forests that suddenly part to greet you with a cooling waterfall.
The Mercer Bay Loop Track offers some of the most awe-inspiring coastal views, but at only 1.6km it can form just a short detour in a longer run. Karakare Beach is a famous stretch of flat dark sand that you might want to do a few sprints on before, while the Kitekite Falls Walk gives you the opportunity to see a waterfall from both the bottom and top (getting to the top will stretch your legs and take about 10-15 minutes).
Distance: 10km
Difficulty: easy farmland track
Experience a little bit of Europe by running across the lush green farmland that overlooks Omaha Bay to the north and Kawau Bay to the south. At the eastern tip of Taqharanui Regional Park, this 10km track hugs the coastline in a loop that takes you to Takatu Point, where you will get a view of Kawau Island in the distance.
A serene running spot on New Zealand's North Island, the only real challenge you will face is dodging cowpats, but the constant undulations without any major inclines will get your heart going, as will the incredible views of the Matakana Coast and swimming spots that offer the chance for a mid-run dip.
---
Find the right gear for your next run...