Where is the best trail running in Sydney?
Kathmandu ambassadors Alesha and Jarryd are professional photographers, writers and founders of adventure travel blog NOMADasaurus. They've been exploring the world together since 2008, searching for culture and adventure in off-the-beaten-path destinations.
---
Home to magnificent beaches, native forests and unique architecture, running in Sydney offers you a variety of quintessentially Australian landscapes through which to pass.
No matter the time of year, you'll find locals and tourists alike heading outdoors to make the most of Sydney's running trails. It's a city that continually buzzes with activity, and for those that love trail running, you'll find hundreds of fantastic tracks to choose from.
Whether you're in town for a weekend or are lucky enough to call Sydney and its surroundings home, here's our list of the 5 best spots for trail running in Sydney.
Spit Bridge to Manly – 10km
Trail running in Sydney is synonymous with coastal trails, and the Spit Bridge to Manly trail is one of the best examples of what New South Whales' capital has to offer trail runners. It's hard to believe such incredible coastal views are found so close to the CBD, but with the Spit Bridge to Manly trail, you'll find postcard-worthy vistas every few hundred metres.
This stunning walk starts at the north side of the Spit Bridge in Balgowlah and follows turquoise bays and high cliffs all the way to Manly, one of the coolest spots to grab a bite to eat in all of Sydney.
The trail itself is very well maintained, with a mix of paved pathways and compacted dirt tracks. It cuts right through the Dobroyd Head section of the Sydney Harbour National Park, home to Indigenous rock carvings and spectacular views back to Sydney and across North Harbour.
It's a very popular trail and during summer it can get very hot, so we recommend you start early in the morning and grab yourself a tasty breakfast in Manly afterwards.
Narrabeen Lagoon Loop – 8-11km
Further up the coast and into the Northern Beaches is the popular surf town of Narrabeen and the delightful Narrabeen Lagoon.
Starting from the main bus stop, the path follows the lagoon through Jamieson Park, Billarong Reserve and past the Sydney Academy of Sports. A new boardwalk keeps you far enough away from the road that it almost feels like you're in the middle of the bush.
One of the real highlights of running in Sydney is the chance to see a variety of wildlife along the way. Birds, in particular, are everywhere on this trail. You'll see cormorants, pelicans and even black swans right next to the track. For those that start their run early enough in the morning, you can even catch wallabies around Jamieson Park.
For a nice 3km-extension, continue around the lagoon to North Narrabeen Rockpool, along the beach and back to the bus station to finish up your run.
Ku-ring-gai Chase National Park– various distances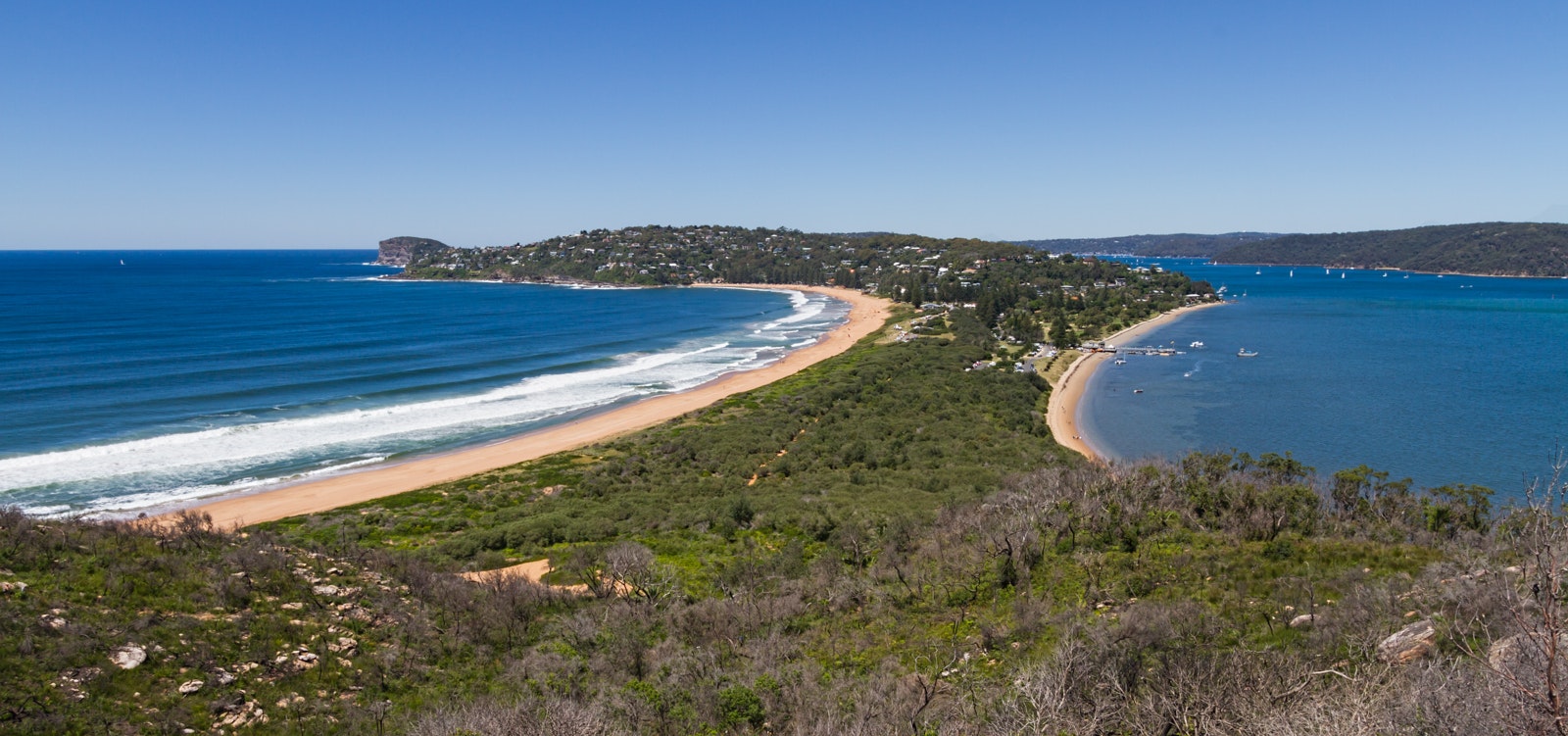 A 14,882ha national park, Ku-ring-gay is one of the best examples of trail running in Sydney due to the mix of coastal tracks and bush tracks as well as the opportunities to create your own routes within the many trails that cover this area.
The area is best known for Barrenjoey Head, which offers incredible rock climbing and stunning views. Run up the head or explore other stunning landscapes, whether it be on the 13km trail from Cowan train station to Brooklyn via Jerusalem Bay or the 10km circuit starting from Bobbin Head, which weaves through thick mangroves as it follows Cowan Creek.
The Coast Track – 26km
If you're training for a marathon, or just want to push your body that much further, then definitely don't miss the gorgeous 26km-long Coast Track, found in Royal National Park a short drive south of Sydney.
The national park is the most visited one in the entire country, and for good reason. The well-worn path has remarkable views of the ocean, dramatic cliffs and headlands, while native bushland creeps right up to the edge to peek down on the crashing waves below.
You can either do this track as a one-way run, in which case it is best to do it with a friend and park one car at each end as there's no public transport. Alternatively, you can park your car at either Bundeena, Wattamolla Beach or Otford, run as far as you'd like, then turn around to head back to your car.
During the winter months it's even possible to see migrating humpback whales just out to sea – a bonus during your run!
Milson Park to Mrs Macquarie's Chair – 12km
This classic Sydney running track manages to include most of the city's iconic landmarks in one marvellous 12km jaunt.
Starting at Milson Park in North Sydney, this trail heads south and over the Harbour Bridge, a bucket-list activity that surprisingly few locals ever actually do. Once you're in the city, cut down Argyle Street and through the historic Rocks, making your way into Circular Quay.
A lap around the Opera House takes you to the edge of the Royal Botanical Gardens, and at this point, you can either jog along the peaceful pathways or stick to the harbour. Finish up at Mrs Macquarie's Chair, offering some of the best Harbour views in all of Sydney.
As long as you keep the harbour on your lefthand side, you can't get lost. Remember that NSW received 4.3 million visitors last year, so this is another trail that is worth an early-morning alarm.
Bondi to Coogee – 7km
Our final recommendation for top trail running spots in Sydney is perhaps the most classic route in New South Wales, and is short enough that almost anybody can attempt it.
The 7km-long Bondi to Coogee walk follows the coast along the city's legendary Eastern Suburbs, using boardwalks and footpaths to twist their way into parks and headlands.
Bondi is arguably Australia's most famous beach, packed to the brim with tourists and locals throughout the day, so to beat the crowds we recommend starting your run early. Tamarama, Bronte and Clovelly all offer amazing views over the ocean, and finishing up at Coogee allows you to make the most of the buzzing restaurant and cafe scene after your run.
Public transport between the two can be a bit of a pain, so if you feel like extending your run simply return the same way you came to make a gorgeous 14km trip.
---
Find gear for your next run...